We are proud to be your Residential and Commercial Roofing Specialists!
CALL NOW for your free estimate!!
Roofing Contractor in New Bern, NC
Dallas Cherry Roofing has been providing homeowners and businesses with top-quality roofing services since 1997. Our highly-trained team of roofers specializes in roof replacement and installation, repairs, installation, re-roofing and much more. Our roofing company uses only best-in-class materials and put forth unparalleled effort to ensure you're getting a roof that's beautiful and reliable for years to come.
Expert Residential and Commercial Roofing Services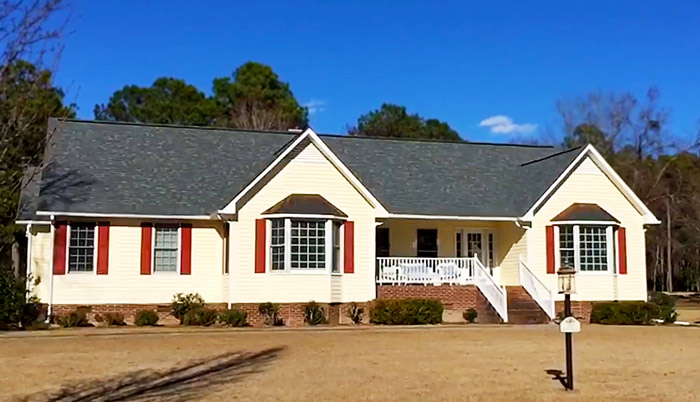 When you need a roofing contractor in New Bern, Craven County, or Bridgeton, NC that can deliver on its promise of a beautiful, resilient, functional roof, trust none other than Dallas Cherry Roofing. While other companies claim they're the best, we prove that we are with steadfast dedication to our customers and their homes or businesses. Whether you need simple roof repairs or the time has come for a full replacement job, we look forward to showcasing our work ethic, quality products and professional demeanor. We want every homeowner and business owner to know they can trust us with their roof, and we go out of our way to prove it in everything that we do.
Our roofers specialize exclusively in shingle roofing services. This means that we do one thing, and we do it better than anyone else. No other residential or commercial roofing company in New Bern, NC has the expertise or insight that we do when it comes to all facets of shingle roofing. We can advise you on what repairs you might need, what the best value for your roofing job is, or what codes need to be followed as part of your tear-off roofing project. On top of this, our expertise as roofing contractors allows us to work quickly and with unparalleled precision. Take a look at just a few reasons why homeowners and business owners continue to trust our roofers when their shingle roofing needs the oversight of an expert professional:
We've been in business since 1997.
We're proud to be an Owens Corning Preferred Contractor.
Our services include a full on-site cleanup after work is completed!
We work with residential customers, as well as commercial customers on a job-by-job basis.
We're pleased to serve all of New Bern, NC and the surrounding 50-mile areas.
LOCALLY OWNED AND OPERATED RESIDENTIAL ROOFING COMPANY SERVING NEW BERN, NC AND THE FOLLOWING AREAS:
Craven County, NC
Pamlico County, NC
Carteret County, NC
Dover, NC
Fairfield Harbour, NC
Pollocksville, NC
Havelock, NC
Bridgeton, NC
Cove City, NC
Hymans, NC
James City, NC
Neuse Forest, NC
River Bend, NC
Trent Woods, NC
Vanceboro, NC
Brices Creek, NC
Oak Grove, NC
Get a Quote on Roofing Today
If your home's roof new some remedial work or the time has come to invest in a brand-new roof, give us a call right away for a free estimate. We guarantee quality workmanship!
Contact us